To make a reservation for one of our tours of the Cocoa forest
please call the office at 321-632-7085 at least
one day

ahead.

We are busy with horses and customers all morning and afternoon every day. We most likely can not answer the phone or call back during that time. But you can leave us a message with your name and phone number and we will give you a call back as soon as we have time. We need to ask you a few questions in order to select your horse for you. Since the office phone is a landline we can not receive text messages. Also we don't take reservations by email.




We cannot take riders younger than six years old or those who weigh more than 225lbs.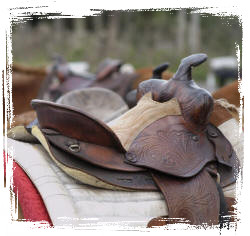 Reservations are required
as we need to catch, groom and saddle your horse before each ride. When they are not out on the trail we allow our horses to run freely, to 'be horses' and do what horses do!
Hours of operations:

Please contact us for any information
Please arrive in allow ample time before your scheduled horse ride so you can meet your horse and get saddled (the ride times do not include mounting and dis-mounting).
The current charge for a 1 1/2 hour guided trail ride is $40.00 per rider.
We accept VISA, MasterCard, Travelers Cheques and Cash
Release Form
ALL riders are required to complete a 'Release Form'.
Save time by printing and filling out our release form at home instead of immediately before your ride. Please find the form here