More than just a horse ride, this is also an eco-tour as the horse trails wander through protected conservation areas in north Brevard County taking you through a variety of the natural woodland habitats found on the Space Coast. In Florida these woodlands are known as hammocks.
You will experience a wonderful variety of plant life during your horse ride due to a rare combination of climates as both temperate (northern) and subtropical (southern) species grow here together. These ecosystems have the greatest number of tree and shrub species per acre of all temperate forests in the continental United States. They also provide homes for other plants and animals. In addition, our area is home to approximately 50 or more threatened or endangered animal species. Some of which occur nowhere else in the world.
You will be enchanted as your trail ride takes you deep into the shadowy, moist Mesic Hammock with its majestic oaks, draped in Spanish Moss, creating a huge canopy overhead, then, experience the overwhelming beauty of primitive Florida Scrub, Wet Prairie and prehistoric like Hydric (low wet) ecosystems. A journey you will not forget.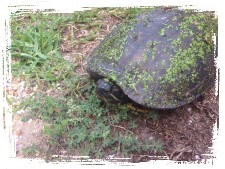 Plants and wildflowers that are native to Florida attract various species of butterflies and their larvae (caterpillars), insects, reptiles, and birds. Other animals, including the Eastern Indigo snake, Florida scrub lizard, gopher tortoise, armadillo, white-tailed deer, and bobcat find good living here.
Your trail guide will take you through the forest while you learn about the history of our area as well as the animals & plants that can be found.